With implementing partner TEWPA, BKFA is piloting in 2018-19 in preparation for a three year maternal and newborn health initiative in three locations in the Katakwi District of Eastern Uganda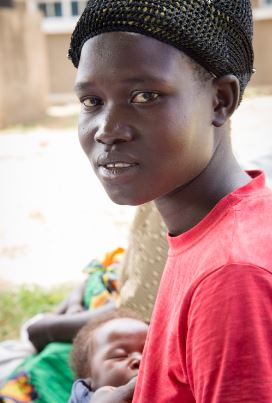 A long history of conflict in the Teso sub-region of Uganda has negatively impacted upon the health and wellbeing of girls and young women. Although the sub-region is slowly recovering, girls and young women continue to experience poor sexual and reproductive health outcomes, with 15-19 year-olds bearing the higher burden. The Teso sub-region has the highest proportion of adolescent mothers in Uganda.
When compared to other pregnant age groups, a pregnant adolescent faces a much higher risk of childbirth-related death and disability. While physically underdeveloped, pregnant adolescents are more likely than their female peers to be living in poverty and are also more likely to have poor nutrition and poor health—important contributors to poor maternal and newborn health outcomes.  BKFA has partnered with Teso Women Peace Activists (TEWPA) on the Reaching Vulnerable Adolescent Mothers and Newborns (REVAMON) Project.
This is a 3-year project that aims to improve maternal and newborn health outcomes for female adolescents and their newborns in 3 sub-counties of Katakwi District, Teso sub-region. The objectives of the REVAMON Project are:
improving the experience of young mothers in pregnancy, childbirth, and the postnatal period through improved adolescent access to and utilisation of effective sexual and reproductive health services;
fostering the engagement of male adolescents and men in sexual and reproductive health activities; and
gaining support from leaders within the community on adolescent sexual and reproductive health issues and rights.
The core activities of the REVAMON project are:
establishing adolescent health groups in schools and communities;
production of hygiene, clean birth, and newborn packs by adolescents;
provision of an adolescent-friendly reproductive healthcare service using a group antenatal care model; and
awareness-raising at all levels of the community using workshops, radio programming and district-level engagement.
To donate to this project or for more information please contact BKFA at info@bkfa.org.au