BKFA Birthing Kits are a simple and effective tool for basic infection prevention and first-line childbirth care. Each component has been selected to support the 6 principles of cleanliness at birth for mothers, newborns, and birth attendants in high-risk and emergency settings.
The Birthing Kit is reviewed annually as part of BKFA's commitment to better understand the social and environmental impact of the Birthing Kit.
Download Kit Contents Poster
Each kit contains 6 disposable components:
Soap to wash the birth attendant's hands and the mother's perineum.
A plastic Sheet to prevent the mother and newborn coming into contact with the ground or an unhygienic surface.
Gloves to cover the birth attendant's hands and provide protection from infections such as HIV for carers and care recipients.
Gauze to wipe clear the newborn baby's eyes, and to clean the mother's perineum prior to giving birth.
Cord ties to cleanly tie the umbilical cord.
A sterile blade to cut the umbilical cord and reduce risk of newborn tetanus and sepsis.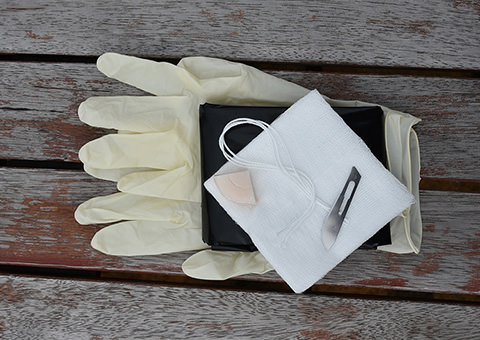 WHY BIRTHING KITS?
Disposable Delivery Kits are recommended by the World Health Organisation (WHO) as an essential tool for use by birth attendants when a delivery occurs outside of a designated facility, particularly in emergency settings.
There is evidence from around the world demonstrating that these kits prevent childbirth-related infections and also act to improve health outcomes for mothers and babies by removing barriers and supporting mothers to access health services.
In many low-resource settings health facilities are not adequately equipped with clean supplies, so kits can also be used to resource and improve the basic cleanliness of these environments.
HOW BKFA BIRTHING KITS ARE PRODUCED
Generous supporters raise funds and organise events to assemble Birthing Kits.  Thousands of volunteers contribute to our Birthing Kit supply each year.
Read more about becoming involved and holding your own Assembly Day.
WHERE OUR KITS ARE SENT
We send Birthing Kits, as part of a grants program, to organisations that have undergone an application and approval process to become a Field Partner.
This capacity and risk assessment process ensures our Field Partners are able to identify vulnerable populations and effectively integrate the Birthing Kits into their existing programs and/or services.
Read more about becoming a Field Partner.
We currently work with dozens of Field Partners throughout Asia, Africa, The Pacific and The Caribbean. The majority of our kits are sent to sub-Saharan Africa. You can view a map of our Field Partners here.
We also send Birthing Kits to approved organisations that deliver frontline assistance and services to the most vulnerable populations in emergency settings.
To find out more about Emergency Response Partnerships, contact info@bkfa.org.