We were so pleased to receive this incredible account from Yolonde Entsch.  Yolonde tells us…
"In October 2018, I attended a Women's Gathering in the South Fly District of the Western Province, Papua New Guinea (PNG). The purpose of my trip was to distribute over 400 Moon Sick Care Bags, 500 Brthing Kts and provide education on both. With the help of several local women we also surveyed over 400 women on menstrual health management.
Birthing Kits are new to this extremely disadvantaged area of PNG, so I was keen to hear if any of the newly trained female Community Rangers had used a birthing kit. This is Ranger Edna's story. I recorded this story on my phone, with Ranger Edna's permission to share. While Ranger Edna was speaking, I listened without interrupting. This is a transcript of her story. Words inside brackets are mine and only provided for clarification.
Ranger Edna's story is the reason I do what I do…"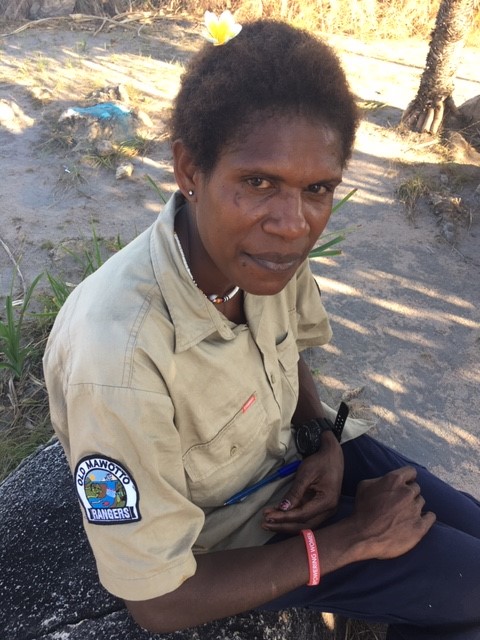 Ranger Edna: It was a Sunday, when my small brother's wife was in labour. She had nobody to accompany her. It was her and her small daughter. They walked pass by the house and down on to the beach. I didn't realize that she was feeling pains, labour pains. So, while I was sitting down this lady went for a walk to the beach. She came back and said "this one lady from the rural area wants to give birth, and she's down there at the beach. She's with a little girl". And then I ask, "who's that" and they called my small brother's name. And I said "Oh, so she's my in-law but I don't know how to deliver kids. It's my first time. I will go, just see her and offer her some water. It's been a long way and I'll get some water for her", that's what I told the girls.
I got my [community ranger] shirt. These other rangers were there, female ranger, so I told the female rangers [about the lady on the beach]. They issued me [Australian Ranger Trainers] with the birthing kits while on Paho Island [base camp for ranger training]. So those birthing kits were in my lunchbox. I took them all. I put them in a bag and put my Ranger shirt on and I walked off.
I went right around in the bush tracks, I followed it, and came to the beach. When I came out I asked her little girl, "is Mummy ok?" and she said "yeah, mummy said to stay inside, she told me to sit down and make a fire". She had made a fire. She sat near the fire and she was waiting for the mother.
The sisters didn't come down, her in-laws still didn't come down. So, she herself struggled. I was a bit nervous to go and see her. Like, I can't go because she's my small brother's wife. I have to respect that but I have to do this, there was nobody there to help her.
So, I walked. I saw her. She had spread her lap lap and spread a little bit of cloth. Her skirt, she had on, was on her chest. She was getting herself…she was struggling…to deliver. When I saw that I said, "I am a Ranger, I try my best to deliver. I will help". So, I told her "This is my first time. I'm going to deliver, the first time in my life to do this work". So, she said "I don't care, you are my in-law, you can do it for me. You can help me. I have nobody else. It's only you standing".
So, my dear Ranger friend, she came too. She was just standing at the back and she said, "What do you want me to do?", and I said, "get me some water, salt water in a bucket and bring and put it here, next to me".
So, I told my in-law, "you get up and I spread the birthing kit". I opened the kit, took the black plastic and I spread it. I took the scalpel blade out, I put it safe. I took the rope [cord] out and I put it safe. I wore the hand gloves and I told her, "OK, I don't know how to deliver babies, so you are going to tell me what to do".
She was in real pain. But she have to open her mouth and give me instructions and I was helping, until I delivered the small girl on my hand. And then I told her, "One part I'm confused. I don't know how to cut the umbilical cord. Can you give me the right measurements? Will I cut it first and tie the rope, or will I wait for the placenta to come out and I'll cut it and tie the rope or will I tie it first or the placenta come out, I tie the rope and cut it.
She said, "The placenta comes out first. You tie the rope, make the belly button and you cut it off". So, I followed her advice and then I waited. The rubbish came out, I cut it, I tied the rope and I cut it off.
Then I got the baby, there was one cotton [gauze] in that birthing kit. So, I got that cotton [gauze] and started wiping the baby's face and cleaning the baby up. My grandfather was a doctor, so he explained when a mother gives birth you are not allowed to wash that child, because sometimes pneumonia can fall in. If you wash that child, then the child is cold. When the child is inside a mother's womb, the child feels warm. When the child is outside, the child is cold.
So, I just wipe the dirt off, and I wrap the child. I wrap the child up and I gave it to the Ranger. The other female Ranger, my partner, and I told her "Hold that baby, I want to clean her rubbish". So, I cleaned her rubbish. I told her "There's water here. You bath. I'm going to sit outside and wait for you, with your small one. When you finish, when you get strong, you come." And she said, "Can you ask for some water and I'm hungry." I said, "I'm really sorry, you wait for me".
While she was waiting for me, I told her "I have no choice but there's a coconut tree standing next to us". I climbed the coconut tree, I knocked two [coconuts], I brought them down, I husked the coconut and I gave her some water, and I gave her coconut meat and she got strong.
She told me, "Thank you very much".
And she told me, "What name would you give my little girl?", I said "put her my 'name sake', that was my first experience, so I have to put my 'name sake'. You know, she is already nine months. Nine months old. That small girl, she's my 'name sake'. So, when she said it, "your 'name sake'", I said "yeah, put her my 'name sake' because it is my first time for delivering mothers". I didn't train for this.
I told her, "Thank you but my mouth will be shut. We are ladies, we will go through the same way." She said, "Thank you".
I escorted her out [from the beach] and left her in the house. Then I walked pass my Aunties. They said, "oohh, you are a midwife", but those were just words, that didn't really happen. But I said, "You must have love for those who are in pain, labour pains. What if it will happen to you or your daughter? And between the labour pains, labour pains still can cause death". So, you must have that love for women that are pregnant and in pain and falling in pain, labour pains, you must have. So, I told them "That's my love, I'm showing it. If you have grudges against me or against our in-law, well that's all up to you and how you think about it. It's me, I'm doing my job as a Ranger."
Yolonde: And what happened then? Did they accept that?
Ranger Edna: They accepted that. And the community was proud. Our Council Chairman, he said "they told me how beach is not the safest place to be. I think we need a mini aid post. Thank you.
Yolonde: What a story. Thank you for sharing it with me, and what an experience.
The Empowering Women Program is run in Australia and PNG and targets disadvantaged and extremely disadvantaged women. For more information about the program, please contact Yolonde Entsch on 0408 022 703 or yolonde@yolonde.com
 Birthing Kit Foundation Australia has generously provided over 1000 Birthing Kits which have been distributed in 13 Treaty Villages. The Australian Government funds the Building Resilience in the Treaty Villages (Community Rangers program), is led by the Reef & Rainforest Research Centre and funded by Australian Aid.
This trip and the distribution of Birthing Kits was paid for by YLE Enterprises Ltd.
Photo credit: Yolonde Entsch