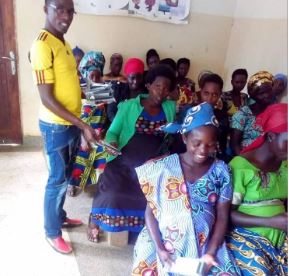 Think Humanity Uganda, long term partner of BKFA shares with us that kits are distributed by Village Health Team members directly to visibly pregnant women.  Think Humanity tell us that  distributions are only completed after a "Health Talk" has been presented and that birthing kit distribution often goes hand in hand with mosquito net delivery.
Think Humanity also engages a Health Care team and a number of volunteers, one of whom (Calvin, pictured in yellow) collects Birthing Kits from the coordination office, takes them to Kyangwali Refugee settlement camp and distributes them directly to pregnant mothers, after educating them on how to use them.
Calvin says…
"While on my official duties in the communities we serve, Birthing Kits help me relate much more with my people especially mothers thus making my work simpler and holistic. This gives me the chance to keep working with communities which is one of the things I enjoy doing. I now have more knowledge on women and the entire gestation process, a fact which cannot escape mention" 
Thank you to our partners, their teams and volunteers for making sure our kits get to where they are most needed.