The gift of a safer birth this festive season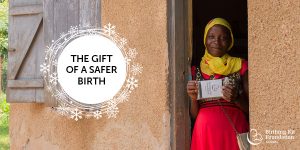 Make a donation as a gift to someone special this festive season
Choose between a beautiful printed card, or an e-card. Simply select the option you prefer and make sure you enter a personalised message. The card will be mailed on your behalf, and the e-card will automatically be emailed to the person you choose.
Where does my donation go?
Donations are tailored to best meet the needs of the communities and the organisational priorities we support.
BKFA provides support to end preventable maternal and newborn deaths across the world. Our approach is two-fold, with the supply of Birthing Kits and a commitment to longer term solutions to complex maternal and newborn health issues by developing partnership collaborations and projects.
Your tax-deductible donation will support the work of BKFA, so your gift may contribute to our kit making and distribution program, to one of our community development projects, or to the management and delivery of other projects such as research, technology, and monitoring and evaluation initiatives and broader program management costs.
We appreciate all donations and would like to keep in touch.  If you would prefer not to receive communications such as news, updates and fundraising information from BKFA please email accounts@bkfa.org.au